Continuous customer satisfaction

Woojin Industry Co., Ltd. establishes and implements a systematic business continuity plan based on global standards.
To implement this, we comply with the following policies for the business continuity plan and fulfill each member's responsibilities and obligations.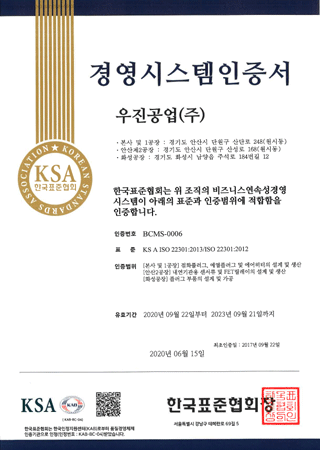 ISO 22301 Business Continuity Management System
1

In the event of a business interruption of Woojin Industry Co., Ltd., We do our best to restore all business areas within the shortest time by mobilizing all the resources of the company so as not to affect the customer's business.

2

Risk factors and impacts that threaten business continuity are periodically analyzed to revise and supplement the business continuity plan so that core business can be restored within a limited period of time in case of an emergency.

3

Actively comply with laws, regulations, and stakeholder (especially customers) requirements to secure business continuity.

4

Based on mitigation (improvement) activities for risk factors that threaten business continuity, we regularly conduct simulation training to assume various scenarios to strengthen our crisis response capabilities.

5

To establish the company's own business continuity culture through continuous education and promotion of all members.

6

Maintain the optimal level of business continuity by periodically verifying and improving the company's business continuity operation activities in accordance with international standards.
By ensuring stable provision of products and services to customers, we continue customer trust and leap forward as a leading company in the industry through continuous growth and development.