Achieving an accident-free workplace

Our company's safety and health policy is "Achieving an accident-free workplace" that aims to improve customer satisfaction, business performance, and individual quality of life based on safety and health awareness.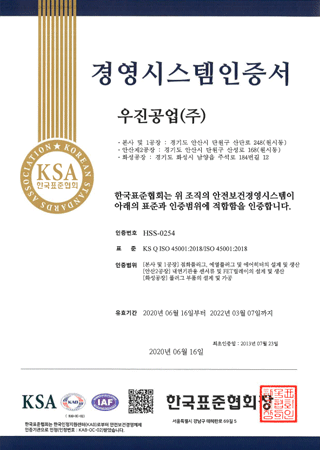 ISO 45001 Safety and Health Management System
1

Compliance with safety and health laws

Comply with all safety and health laws and other requirements related to business activities.

2

Prevention and continuous improvement of injuries and health disorders

Conduct safety and health risk assessments and eliminate and minimize the risks found.

3

Reinforcement of safety and health awareness among employees

To improve the safety and health awareness of our employees through continuous safety & health education, environment and energy committee.

4

Implementation of workplace cleaning

To continuously pursue zero accidents and promote the health of all employees by improving the work environment at the workplace.
By ensuring stable provision of products and services to customers, we continue customer trust and leap forward as a leading company in the industry through continuous growth and development.